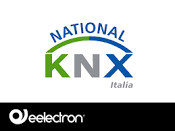 AUTOMATION FOR INTELLIGENT BUILDING: DESIGN, COMFORT AND HIGH ENERGY EFFICIENCY –
Eelectron develops devices and applications on KNX protocol, fully dedicated on building automation. We create smart solutions for energy saving, with a strong focus on design, technology and comfort.
R&D, production are totally Made in Italy. Our high quality rate is expressed through a wide range of products that cover differnt types of fields as residential, hotel and building, with over 75 partnership around the world.
Today, our products are installed in more than 25.000 hotel rooms, luxury villas, large residential complex worldwide.

Switches & Sockets

Lighting Management

Shutter Management

Climate Control

Sensors / Metering

Access Control

Supervision

System Components ^ Interfaces

Accessories
| OUR PRODUCTS
EELECTA
9025 – CAPACITIVE KNX THERMOSTAT/HUMIDISTAT
9025 CAPACITIVE KNX SWITCH – RGB RANGE
KNX/DALI GATEWAY TUNABLE WHITE
UNIVERSAL ACTUATOR 16 INPUTS / 16 OUTPUTS PLUS
ANALOG / DIGITAL MODULE