The 3M™ VHB™ Tape 4941 uses a 1.1 mm grey multi-purpose adhesive providing a strong doubled sided foam tape with a conformable foam core. This extraordinary tape adheres to broad ranges of surfaces, including metals, plastics and wood. This 3M quality tape provides shear strength, conformability, surface adhesion and temperature resistance and offers a good plasticiser resistance.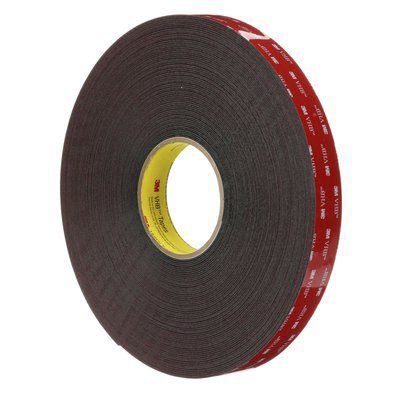 Product Details
3M™ VHB™ Tape 4941 General Purpose Tape, Grey 19 mm x 33 m
Application
The 3M™ VHB™ Tape 4941 can provide high strength and long-term durability through the modified acrylic adhesive. It offers flexibility to a design as it can replace rivets, welds and screws, with a viscoelasticity and powerful ability to bond to a variety of surfaces.
Features and Benefits
Fast and easy-to-use permanent bonding method provides high strength and long-term durabilityPressure sensitive adhesive bonds on contact to provide immediate handling strengthHigh dynamic stress absorption reduces vibration and impact stressCreates a permanent seal against water, moisture and moreVirtually invisible fastening keeps surfaces smoothGrey, 1.1 mm, multi-purpose adhesive and conformable acrylic foam core for good balance of strength and conformability in demanding applicationsCan replace mechanical fasteners (rivets, welding, screws) or liquid adhesives: Eliminate drilling, grinding, refinishing, screwing, welding and clean-up
Benefits of choosing 3M Foam Tape
Design and deliver with 3M™ VHB™ Tape. Utilizing the unique acrylic adhesive on both sides of a conformable foam strip makes it the most capable VHB™ Tape. It's been designed to adhere to a variety of surfaces like plastics, metals, wood and glass.
Unconventional foam tape. 3M invented the first foam tape, they have been at the forefront of improving the properties of this tape to ensure extreme reliability, consistent durability and a consistent bond. The 3M™ VHB™ Tape is a proven alternative to rivets, screws and welding for a number of applications.
Reliability and durability. 3M™ VHB™ Tape does not only offer a strong reliable yet durable bond it enhances the appearance of finished goods. It does this by eliminating the rivet and screw heads s well as visible welds whilst providing an immediate bond. The unique acrylic adhesive is extremely durable and resistant to changing temperatures over time from the heat of Dubai to the cold of Norway.Specifications
| Attribute | Value |
| --- | --- |
| Width | 19mm |
| Thickness | 1.1mm |
| Length | 33m |
| Backing Material | Acrylic Foam |
| Colour | Grey |
| Adhesion Strength | 35 N/cm |
| Single/Double Sided | Double Sided |
| Foam Density | 720kg/m³ |
| Adhesive Material | Acrylic |
| Tensile Strength | 58.5N/cm |
| Maximum Operating Temperature | +90°C |
| Model Number | 4941 |
| Series | VHB™ |
| Adhesion Strength Unfaced Side | 35N/cm |